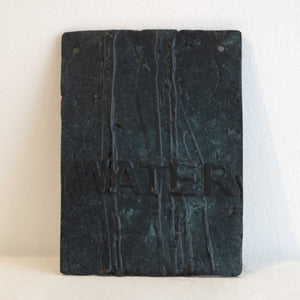 Listing Details
Plaque is from PICK. Place, an exhibition of new works from Anna Dalzell, Alison Erickson & Gill Hay.
Perhaps this year has given new definition to our sense of place in the world.
For this exhibition

 

Place

 

I've made sculpture attempting to capture moments in a place in time, in childhood, moments that define the endless noise and distracting trivia of contemporary life, experiences that are encapsulated by the simple act of hunting for natural treasure and observation of the natural world. Excitement, anticipation and being entirely present in a moment of time.
Alison Erickson has lived and worked at The Mill Studio in Waikari, North Canterbury since 1998. She sculpts and casts bronze on the premises, with her partner, Sam Mahon.
Her work is kept in private collections in NZ and in Australia, the UK and the USA.
Edition 1/3
Dimensions: 150mm W x 205mm H


Want to see this work on the wall at your house? Send us an image of your blank wall and we can create a mockup of the work in situ.

We ship throughout New Zealand! If you are overseas, please contact us and we can negotiate shipping to wherever you are.

Members get 7 days exclusive access to purchase these works before they become available to everyone else.

Members can layby any work, over a period of up to 6 months. Get in touch with us now and we can discuss payment terms to suit your budget.