Welcome to
NZ artbroker
Connecting art lovers to original art.
Welcome to
NZ artbroker
Connecting art lovers to original art.
Welcome to
NZ artbroker
Connecting art lovers to original art.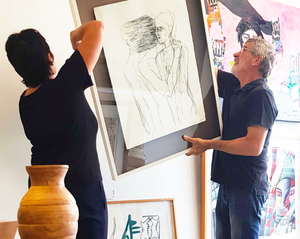 We seek to make art more accessible
NZ artbroker connects art lovers to facilitate the process of buying and selling original artwork on behalf of private collectors.
We manage the whole process for you with fair commission and no add-ons.
NZ artbroker offers an annual subscription with member benefits that include exclusive viewing of newly listed works in addition to discounted rates on valuation and other services.
Browse all artworks
Mark, Picton
I have been using NZ artbroker for around two years now. The Stevenson Collection has around 400 artworks so we do need to offer works for sale from time to time. NZ artbroker are straight up and down achieving great outcomes. I strongly recommend them.
C, Nelson - Seller
"Many thanks for the sales and payments received. It is a smooth and reliable process that you operate and I very much appreciate all that you do. It is always quite exciting to get the Sunday evening email and see what is on offer. I am very happy with the outcome"


Lizzie, Christchurch
"I recently used NZ artbroker to value my art collection, I found them very professional & thorough. They produced a detailed document with photographs of the works and accurate current valuations. I would happily recommend their services."
Amelia - Buyer
"It arrived today - looks amazing! I'm delighted. Love the shelfies too. My younger self is amazed we can buy art online, but it was a risk that definitely paid off."
C - Seller
"I came upon NZ artbroker through a Google search, looking for how I could sell a number of artworks collected over time, as I downsize. Paying a flat fee appealed, along with the business taking care of everything. Jules has been amazing. It's fantastic to have a platform that connects art lovers with works that are ready to find new homes."
Tania, Christchurch
"I highly recommend NZ artbroker if you want to confidently purchase art. My whole experience was fabulous, as they know how to put you at ease with their knowledge and professionalism."
Peter, Auckland - Buyer
Doris has arrived... beautifully packaged, thank you.
It was the talking eyes that attracted me. She's great!