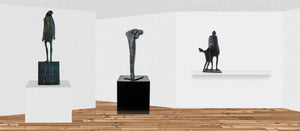 Alison Erickson has lived and worked at The Mill Studio in Waikari, North Canterbury since 1998. She sculpts and casts bronze on the premises, with her partner, Sam Mahon.
Erickson has no formal art training other than serving the apprenticeship of casting a two-tonne bronze, The Southern Man, with Sam Mahon.
Since then Erickson has exhibited each year around New Zealand and have three public sculptures: Looking for something that will last, which stands on a rocky outcrop above Diamond Harbour Wharf, The winds of change, outside the Rangiora library and All the worlds a stage, at the Rangiora town hall.
Her work is kept in private collections in NZ and in Australia, the UK and the USA.
2018

 

Pick Launch, NZ artbroker
2017

 

Unpacking, NZ artbroker Launch, Chambers Gallery
2014

 

3D Exhibition, Oxford Gallery
2013

 

Bronze and Works on Paper, with Sam Mahon, Chambers Gallery
2011

 

Motherland, with Anna Dalzell, Little River Gallery
2009

 

A Place, with Anna Dalzell, Little River Gallery
2008

 

Process, Chambers Gallery
2007

 

Bronze, group show, Remuera Gallery
2006

 

Swath, Morgan St Gallery
2006

 

Burden, The Arthouse
2004

 

Twenty-Four, The Arthouse
2003

 

Ella Baila, The Arthouse
2002

 

Bronze, The Arthouse
2001

 

The Family, The Arthouse
2014-18 

Tai Tapu Sculpture Garden

, Christchurc

2003-17 Sculpture on the Peninsula, Banks Peninsula
2006-12 Sculpture on Shore, Auckland
2012 Sculpture on Point, Diamond Harbour
2011 A Gathering, Christchurh Polytech (Ara)
2009 Form and Fauna, Botanical Gardens, Christchurh
2004-05 Sculpture in Central, Otago
Looking for Something that will Last, Diamond Harbour, 2012
Winds of Change, Rangiora
All the World's a Stage, Rangiora Town Hall
Bureaucracy and the Huia, Tai Tapu Sculpture Garden