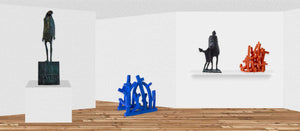 Connecting. Collecting... Presenting.
NZ artbroker director, Gill Hay, has enjoyed developing rewarding relationships with some of our favourite artists long before the existence of NZ artbroker.
Many of these artists exhibited at Sculpture on the Peninsula over the 22 years it ran.
We are now delighted to feature a selection of artists each quarter, offering you the chance to access their wonderful work exclusively via our platform.