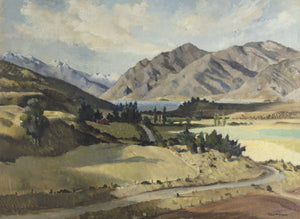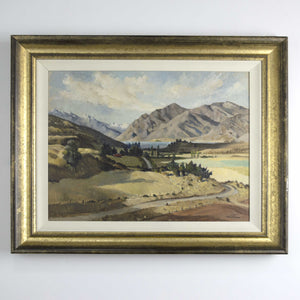 Listing Details
Peter McIntyre was born in Dunedin in 1910. He began studying at Otago University before dropping out and travelling to London where he was accepted at the Slade School of Fine Art. Following his graduation, he worked as a  free-lance commercial artist, his work including theatre productions, restaurant murals as well as serials for magazines. His own contemporary painting of the period was in the Cubist and English avant-garde styles.
When war broke-out he tried to enlist in the British army but was rejected. The New Zealand army accepted him, and he went to Cairo with the 2nd New Zealand Division. His artist talents were recognised, and he completed work for the Parade magazine as well as completing many landscapes and portraits of fellow soldiers. General Freyberg became aware of his talents and in 1941 appointed him an official war artist. As time progressed, he was allowed to work near the frontlines creating drawings of events as they unfolded, using these as the basis for his later painting. This work was described as romantic realism.
After the war he returned to New Zealand first settling in Dunedin before moving to Wellington. He continued to paint winning awards, books of his work were published and there were significant exhibitions at major institutions. He is high recognised for his contribution to New Zealand art.
Image Dimensions: 500mm W x 470mm H
Framing: Framed
Framed Dimensions: 760mm W x 670mm H

Want to see this work on the wall at your house? Send us an image of your blank wall and we can create a mockup of the work in situ.

We ship throughout New Zealand! If you are overseas, please contact us and we can negotiate shipping to wherever you are.

Members get 7 days exclusive access to purchase these works before they become available to everyone else.

Members can layby any work, over a period of up to 6 months. Get in touch with us now and we can discuss payment terms to suit your budget.