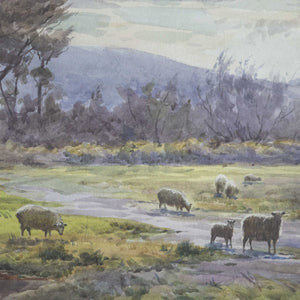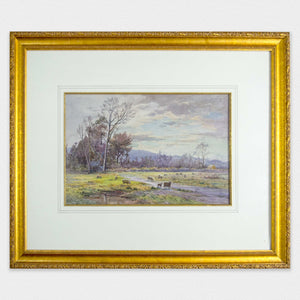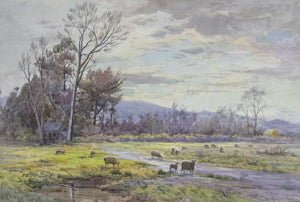 Listing Details
William Menzies Gibb was born in Innellan, Scotland, in 1859, the son of painter John Gibb. He was aged 17 when he arrived in Lyttelton with his parents in 1876.
In 1880-1881 he studied at the National Gallery Art School in Melbourne.
While still in Melbourne in 1881, Gibb had painted a portrait of Sir Julius Vogel who had been Prime Minister of New Zealand during the 1870s. On his return to Christchurch in 1882 he first established himself as a portrait painter but later specialised in landscapes. Gibb exhibited at the first CanterburySociety of Arts exhibition in 1881 and  continued to be actively involved on the council of the Society throughout his career, including serving as President in 1916.
Throughout much of his early career Gibb worked in an Academic manner, working up in his studio sketches and studies made out of doors. In his studio more detailed and highly finished works could be completed. However, he also favoured painting directly from nature, particularly when working in watercolours. His paintings were very popular in the late 19th and early 20th centuries because of their representation of the New Zealand landscape in its happiest moods'.

Dimensions:  510mm W x 340mm H
Framing: Framed
Framed Dimensions: 865mm W x 685mm H


Want to see this work on the wall at your house? Send us an image of your blank wall and we can create a mockup of the work in situ.

We ship throughout New Zealand! If you are overseas, please contact us and we can negotiate shipping to wherever you are.

Members get 7 days exclusive access to purchase these works before they become available to everyone else.

Members can layby any work, over a period of up to 6 months. Get in touch with us now and we can discuss payment terms to suit your budget.