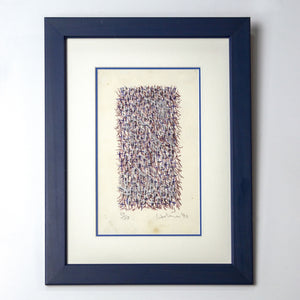 Listing Details
Muka Studio
Frans Baetens and Magda Van Gils came to New Zealand in 1983 and started lithographic printing in Auckland, opening their own workshop the following year. They called it the Muka Studio taking the name from the Maori word for 'flax'.
In 1985 they bought Tony Fomison's house in Auckland and, with the instigation of Tony Fomison and Pat Hanly, they also started a Gallery. The Muka Studio Gallery soon had over 50 well-known artists exhibiting and working in lithography with them.
The Muka Studio created a special set of children's prints from Muka artists. School children were invited to come to the Gallery to learn about the lithographic process and, if they wish, to purchase a small print by a significant New Zealand artist for the incredible price of only $30. This was a unique opportunity for children to begin their own art collection.
---
Image Dimensions: 160mm W x 270mm H
Framing: Framed
Framed Dimensions: 325mm W x 435mm H
Edition: 27/100
Condition Note: Some discolouration to print as shown

Want to see this work on the wall at your house? Send us an image of your blank wall and we can create a mockup of the work in situ.

We ship throughout New Zealand! If you are overseas, please contact us and we can negotiate shipping to wherever you are.

Members get 7 days exclusive access to purchase these works before they become available to everyone else.

Members can layby any work, over a period of up to 6 months. Get in touch with us now and we can discuss payment terms to suit your budget.