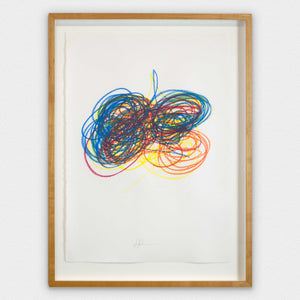 Listing Details
Māia Abraham (Ngāi the Rangi, Tūhoe) is a curator and artist living currently in Ōtautahi Christchurch. He completed a BFA majoring in Sculpture from The University of Canterbury in 2017. Within his practice he uses art and curating as a way of exploring kaupapa Māori ways of thinking and working; asking how does manaakitanga (hospitalilty/respect) exist in the arts? Or perhaps why is whanaungatanga (relationships/connection) important to the artistic process?
Māia is one of 3 kaiwhakahaere (general manager) of Ōtautahi Kōrerotia, a collective producing events and exhibitions for and by local Christchurch artists.
Image Dimensions: 560mm W x 750mm H
Framing: Framed
Framed Dimensions: 695mm W x 900mm H

Want to see this work on the wall at your house? Send us an image of your blank wall and we can create a mockup of the work in situ.

We ship throughout New Zealand! If you are overseas, please contact us and we can negotiate shipping to wherever you are.

Members get 7 days exclusive access to purchase these works before they become available to everyone else.

Members can layby any work, over a period of up to 6 months. Get in touch with us now and we can discuss payment terms to suit your budget.