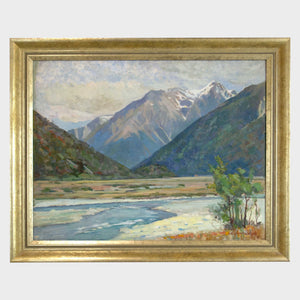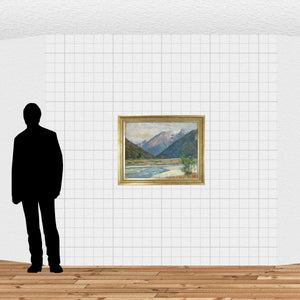 Listing Details
Born in Christchurch as Annie Elizabeth Abbott (1877 – 1946) she exhibited under this name until her marriage to artist C.F Kelly  in 1908. From 1892 -1902 she studied at Canterbury School of Fine Arts where both H Elliot and Petrus Van der Velden were teaching.
She and her husband travelled to Europe in 1921 to study current trends returning in 1922.
Her interest in portraiture grew and she began like many others to send work to England to be included in Royal Academy exhibitions and exhibits at the Paris Salons.
Although well regarded as a landscape painter, her major contribution to New Zealand art lies in the way she revitalised formal portraiture in the 1920s and 1930s. A traditionalist, she followed closely the English school of portrait painting, which made her work readily acceptable both in New Zealand and overseas. Within her generation she gained more recognition abroad than any other New Zealand woman artist.
Official recognition in New Zealand came in 1938 when she was appointed a CBE for services to art.
Image Dimensions: 750mm W x 630mm H

Framing: Framed
Framed Dimensions: 895mm W x 770mm H


Want to see this work on the wall at your house? Send us an image of your blank wall and we can create a mockup of the work in situ.

We ship throughout New Zealand! If you are overseas, please contact us and we can negotiate shipping to wherever you are.

Members get 7 days exclusive access to purchase these works before they become available to everyone else.

Members can layby any work, over a period of up to 6 months. Get in touch with us now and we can discuss payment terms to suit your budget.