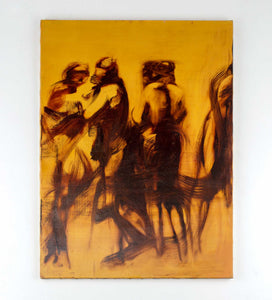 Listing Details
Catherine Manchester (1957-) Catherine Manchester studied at the Ilam Art School from 1979 and graduated with a Diploma in Fine Arts from Dunedin Polytechnic in 1984. She has been exhibiting successfully since 1986 with her work held in private and public collections throughout New Zealand.
Her expressionist and gestural brushwork, with her technique of building up and rubbing back layers of paint, reflects the deliberate brushwork of Rembrandt and the gestural intensity of Francis Bacon.

Want to see this work on the wall at your house? Send us an image of your blank wall and we can create a mockup of the work in situ.

We ship throughout New Zealand! If you are overseas, please contact us and we can negotiate shipping to wherever you are.

Members get 7 days exclusive access to purchase these works before they become available to everyone else.

Members can layby any work, over a period of up to 6 months. Get in touch with us now and we can discuss payment terms to suit your budget.