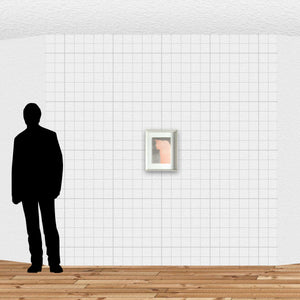 Listing Details
Michael Harrison studied at Elam School of Fine Arts, University of Auckland, graduating in 1997 with a Masters degree. He worked as a part-time senior tutor there from 1995 to 1998 before becoming a full-time artist.

Since 1987 he has exhibited regularly at galleries throughout New Zealand and Australia. His work was included in the inaugural Wellington City Gallery biennial exhibition 'Prospect 2001: New Art New Zealand', and a survey show of his work, 'Love in the Shadows', initiated by Artspace Aotearoa, toured the country in 2002-3. In 2004 a selection of his work was included in the 14th Sydney Biennale, 'On Reason and Emotion'.
Michael Harrison's art has been described as inventive, romantic, playful yet sincere, ambiguous, sometimes uneasy. His mostly small-scale paintings of people and animals are sourced from imagination, book illustration, art history, photography and life itself.
Image Dimensions: 205mm W x 300mm H

Framing: Framed

Framed Dimensions: 350mm W x 450mm H

Want to see this work on the wall at your house? Send us an image of your blank wall and we can create a mockup of the work in situ.

We ship throughout New Zealand! If you are overseas, please contact us and we can negotiate shipping to wherever you are.

Members get 7 days exclusive access to purchase these works before they become available to everyone else.

Members can layby any work, over a period of up to 6 months. Get in touch with us now and we can discuss payment terms to suit your budget.