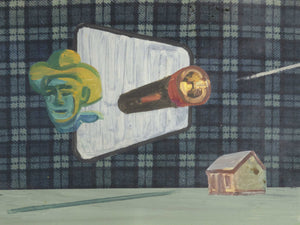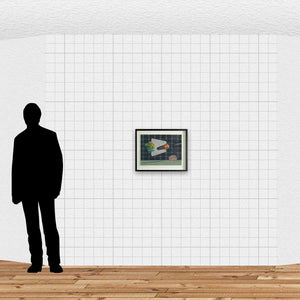 Listing Details
Bryan Dew (1940 - 2006) was born in Hastings in Hawkes Bay. In 1958 he went to Auckland's Elam School of Art, graduating in 1961 after which he returned to Hawkes Bay.
From the Hawkes Bay he travelled first to London where he worked for several years before going on to New York where he spent 20 years primarily as a graphic illustrator. Over this period he did make trips back to New Zealand and often combined these will small exhibitions.
His work is described as satirical or social commentary on the everyday rituals of life particularly the conformity of NZ in the 1950's and 1960's. Themes included twenty-first birthday parties, weddings and the wedding breakfast, beauty contests, and domestic still lifes. The works where all interior pieces and intentionally all painted in his studio in direct contrast to the bright natural light that characterised his work.
Dimensions:  405mm W x 300mm H
Framing: Framed
Framed Dimensions:  515mm W x 420mm H

Want to see this work on the wall at your house? Send us an image of your blank wall and we can create a mockup of the work in situ.

We ship throughout New Zealand! If you are overseas, please contact us and we can negotiate shipping to wherever you are.

Members get 7 days exclusive access to purchase these works before they become available to everyone else.

Members can layby any work, over a period of up to 6 months. Get in touch with us now and we can discuss payment terms to suit your budget.