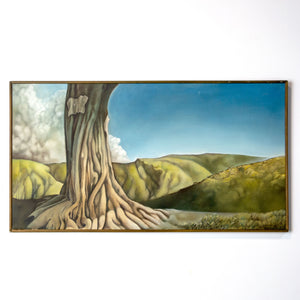 Listing Details
Sam Mahon (1954–) is an activist & artist living in North Canterbury, in a reconstructed flour mill. He is a painter, printmaker & sculptor – mostly in bronze – and has amazing draughtsmanship as exhibited in the beautiful mark-making in this work.
Image Dimensions: 947mm W x 515mm H
Framing: Framed
Framed Dimensions: 970mm W x 535mm H
Condition Note: This work is a very early Sam Mahon, possibly painted while he was attending art school. It is canvas on board in original condition, with original framing both of which are in need of attention.

Want to see this work on the wall at your house? Send us an image of your blank wall and we can create a mockup of the work in situ.

We ship throughout New Zealand! If you are overseas, please contact us and we can negotiate shipping to wherever you are.

Members get 7 days exclusive access to purchase these works before they become available to everyone else.

Members can layby any work, over a period of up to 6 months. Get in touch with us now and we can discuss payment terms to suit your budget.