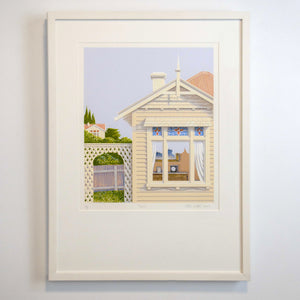 Listing Details
Peter Siddell's (1935 -2011) realist paintings are identified mainly with depictions of the environs of Auckland. While his works appear to be records of actual places, his paintings have a subjective component, and might be better described as magic realism than truly realistic. The cityscapes and townscapes in Siddell's paintings are rendered empty, but with the unnerving suggestion of events occurring outside the picture area.
Siddell's work is held in the permanent collections of all New Zealand major public art galleries, as well as many private, corporate and institutional collections. He was appointed a Companion of the Queen's Service Order for community service in the 1991 New Year Honours, and a Distinguished Companion of the New Zealand Order of Merit for services to art in the New Year Honours. Following the restoration of titular honours by the New Zealand government in 2009, Siddell accepted re-designation as a Knight Companion of the New Zealand Order of Merit. He was only the second New Zealand artist to be knighted, after Sir Toss Woollaston.
Image Dimensions: 365mm W x 435mm H
Framing: Framed
Framed Dimensions: 570mm W x 755mm H
Edition: A/P

Want to see this work on the wall at your house? Send us an image of your blank wall and we can create a mockup of the work in situ.

We ship throughout New Zealand! If you are overseas, please contact us and we can negotiate shipping to wherever you are.

Members get 7 days exclusive access to purchase these works before they become available to everyone else.

Members can layby any work, over a period of up to 6 months. Get in touch with us now and we can discuss payment terms to suit your budget.