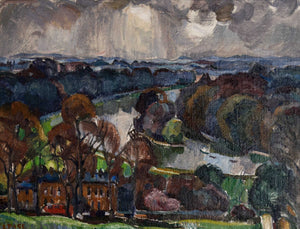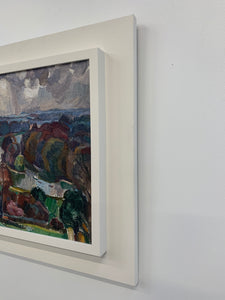 Listing Details
Evelyn Page OBE
1899 -1988
Evelyn Page has latterly been widely recognised as one of New Zealand's most significant female artists. Born in Sydenham, Christchurch, her talent in both music and art was recognised early and at 15 she began attending Canterbury College School of Art. She studied there  between 1915- 1921 winning awards for her skills and forming friendships with her contemporaries including Ngaio Marsh and Margaret Stoddart.

She pursued a career exhibiting regularly and become a founding member of 'The Group'. Dictionary of NZ Biography states "They wished to break with the 'Victorian atmosphere' of their homes and art school training and become the focus of a modernist movement in New Zealand".
Both her parents died in the late 1920's and she was forced to find a more stable income and took up a teaching position at Canterbury College of Art which she held until 1936 when she travelled to England. Among her students was Bill Sutton.
Page spent the next 2 years based in London and travelling on the continent absorbing current European art practice. This greatly influenced her colour palette, her approach to composition and her intellectual approach to her painting.
Returning to New Zealand she married Canterbury musician Frederick Page who later became Professor of Music at Victoria University.
The New Zealand Academy of Fine Arts and the Robert McDougall Art Gallery  both held significant exhibitions to celebrate the depth of her work over many decades.
Image Dimensions: 490mm W x 390mm H
Framing: Framed
Framed Dimensions: 665mm W x 565mm H

Want to see this work on the wall at your house? Send us an image of your blank wall and we can create a mockup of the work in situ.

We ship throughout New Zealand! If you are overseas, please contact us and we can negotiate shipping to wherever you are.

Members get 7 days exclusive access to purchase these works before they become available to everyone else.

Members can layby any work, over a period of up to 6 months. Get in touch with us now and we can discuss payment terms to suit your budget.