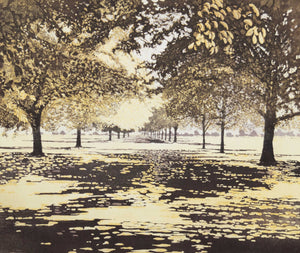 Listing Details
Phil Greenwood 1943 - 
Born in Wales, artist Phil Greenwood studied print making at the Hornsey and Harrow colleges of art. He has also taught and lectured in printmaking and is widely exhibited internationally.
Greenwood is best known for his atmospheric landscapes; copper plate etchings which are inspired by memory.

"I want people to like my images for what they are, somewhere that reminds them of something personal to them which is why I seldom give them a specific place name." – Phil Greenwood 
Image Dimensions: 500mm W x 425mm H

Framing: Unframed
Edition: 120/150


Want to see this work on the wall at your house? Send us an image of your blank wall and we can create a mockup of the work in situ.

We ship throughout New Zealand! If you are overseas, please contact us and we can negotiate shipping to wherever you are.

Members get 7 days exclusive access to purchase these works before they become available to everyone else.

Members can layby any work, over a period of up to 6 months. Get in touch with us now and we can discuss payment terms to suit your budget.