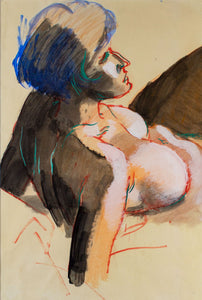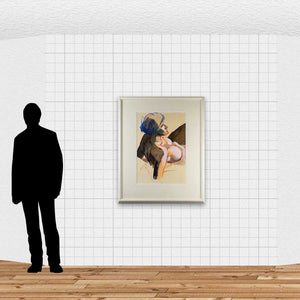 Listing Details
Ted Bullmore (1933-78) Ted Bullmore grew up in rural Southland and trained at Canterbury University School of Fine Arts in the 1950s and at Auckland Teachers' College before heading to London. He spent ten years in London, teaching part-time, and living as an artist in the highly charged avant-garde atmosphere of Post-War London. He returned to New Zealand in 1969 to teach art at Rotorua Boys High School until his death.
Ted gained significant recognition in the art scene of 1960s London alongside his better-known peers Pat Hanly and Ralph Hotere; and his work was collected by none other than film auteur Stanley Kubrick, with two of his shaped canvases turning up in the 1971 movie A Clockwork Orange.
Ted is considered a pioneer of surrealism in New Zealand art and is known for his joyous colour, and the relentlessly innovative forms of his figurative works.

Want to see this work on the wall at your house? Send us an image of your blank wall and we can create a mockup of the work in situ.

We ship throughout New Zealand! If you are overseas, please contact us and we can negotiate shipping to wherever you are.

Members get 7 days exclusive access to purchase these works before they become available to everyone else.

Members can layby any work, over a period of up to 6 months. Get in touch with us now and we can discuss payment terms to suit your budget.