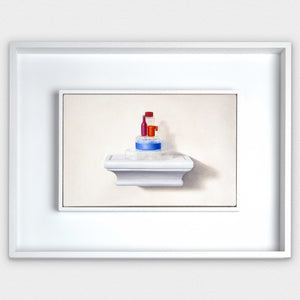 Listing Details
Emily Hartley-Skudder graduated from Ilam School of Fine Arts in 2012, and has exhibited widely in New Zealand. Her work has also been included shows in New York and Australia.
Her work is characterised by the use of miniatures objects to create still life compositions. These compositions intrigue as they have humour but are also at the same time both kitsch and surreal. Her art practice is multi-disciplinary, including photography, painting and sculpture.
Hartley - Skudder states "My use of miniatures promotes the creation of the uncanny and subtly peculiar, the seemingly standard objects gradually separate from their initial reading".
Image Dimensions: 275mm W x 185mm H
Framing: Framed

Framed Dimensions: 443mm W x 350mm H

Want to see this work on the wall at your house? Send us an image of your blank wall and we can create a mockup of the work in situ.

We ship throughout New Zealand! If you are overseas, please contact us and we can negotiate shipping to wherever you are.

Members get 7 days exclusive access to purchase these works before they become available to everyone else.

Members can layby any work, over a period of up to 6 months. Get in touch with us now and we can discuss payment terms to suit your budget.