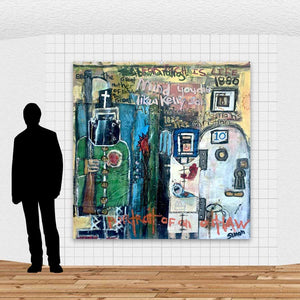 Listing Details
Simon Kerr is renowned for his criminal past and for turning his life around when he discovered the joy of painting during one of his many prison terms.
"I thought, wow, art is something I'm more passionate about than crime, and it's going to provide a living for my family," he says. 
This Stuff article is a very fascinating read.
This particular painting is focused on Ned Kelly's mother, the family matriarch, (in white) 'Die like a Kelly Son' was what she allegedly yelled as Ned was being hung.
Image Dimensions: 1810mm W x 1700mm H
Framing: Unframed

Want to see this work on the wall at your house? Send us an image of your blank wall and we can create a mockup of the work in situ.

We ship throughout New Zealand! If you are overseas, please contact us and we can negotiate shipping to wherever you are.

Members get 7 days exclusive access to purchase these works before they become available to everyone else.

Members can layby any work, over a period of up to 6 months. Get in touch with us now and we can discuss payment terms to suit your budget.