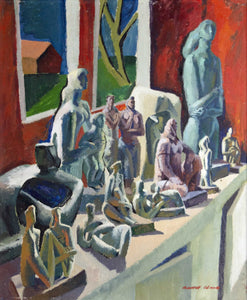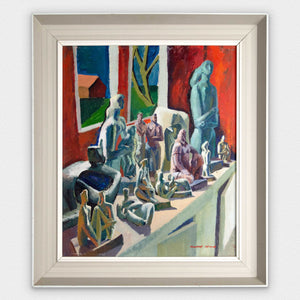 Listing Details
Russell Clark 1905 – 1966
Russell Clark was born in Christchurch on 27 August 1905. At an early age he showed an interest and ability in art, and was encouraged by his family to attend art school. In 1922 he began evening classes at Canterbury College School of Art, and from 1923 to 1928 he also enrolled in day classes. During this time he was awarded several prizes for drawing and modelling. His teachers included Leonard Booth, Richard Wallwork and Cecil Kelly, but by far the most influential was Archibald Nicoll. In 1925 he joined the part-time staff of the school and also became a working member of the Canterbury Society of Arts.
Clark needed to earn a regular income and began to take jobs as a commercial artist. In 1929 he was offered a job in Dunedin by printer and publisher John McIndoe. Several years later he used the McIndoe design studio for art classes. His pupils included Doris Lusk and Collin McCahon.
He later relocated to Wellington, becoming the first designer on the new magazine 'New Zealand Listener'. From 1940 Clark began his long association as a principal illustrator for the New Zealand School Journal. However, he was keen to serve as a war artist and in March 1942 approached the prime minister, Peter Fraser, offering his services. He was called up in November but full approval was delayed and he was posted to a vehicle depot as a sign-writer. It was not until 1944 that the appointment was confirmed. In February that year, with the temporary rank of second lieutenant, Clark joined the 3rd New Zealand Division. Over the following nine months he was active sketching and painting operations in the Pacific, mostly on the Solomon Islands. He returned to Wellington in November 1944 and was posted to the Army Education and Welfare Service, with which he remained until his discharge in July 1946. During this time Clark worked up many of the studies made in the Pacific into finished studio paintings. Over 100 of his works are held in the Archives New Zealand war art collection.
In 1947 he took up a teaching position at the Canterbury University College School of Art.
By the late 1950s sculpture had become more dominant in his work than painting, and he was strongly drawn to the stylistic direction of the British sculptors Barbara Hepworth and Henry Moore. As his profile rose, Clark was sought by architects to work on commission for both corporate and public projects. Among his noted public commissions were sculpture murals for the Timaru telephone exchange (1957) and Christchurch International Airport (1959), an anchor stones sculpture for the Bledisloe Building in Auckland (1959), the Opo memorial sculpture in Opononi (1960), and works at Hay's department store in Riccarton, Christchurch (1960), and Riddiford Park, Lower Hutt (1964).
Clark became a force in New Zealand art in the middle of the twentieth century by creating imagery that was a distinctive interpretation of New Zealand life. As an illustrator he achieved national recognition, but it was in the area of public art – mural painting and sculpture – that he made his most significant contribution. By introducing adventurous contemporary forms to public sculpture in the 1950s Clark helped change attitudes toward art in public places.
Image Dimensions: 355mm W x 420mm H
Framing: Framed

Framed Dimensions: 475mm W x 540mm H


Want to see this work on the wall at your house? Send us an image of your blank wall and we can create a mockup of the work in situ.

We ship throughout New Zealand! If you are overseas, please contact us and we can negotiate shipping to wherever you are.

Members get 7 days exclusive access to purchase these works before they become available to everyone else.

Members can layby any work, over a period of up to 6 months. Get in touch with us now and we can discuss payment terms to suit your budget.