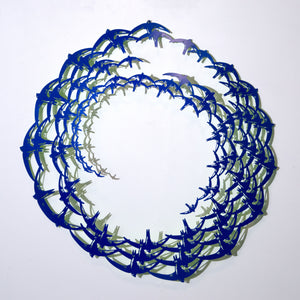 Listing Details
Sculptor Neil Dawson CNZM (1948-), is best known for his large-scale civic pieces crafted from aluminium and stainless steel, often made using a lattice of natural forms which between them form a geometric whole.

Dawson graduated from the University of Canterbury with a gained a Diploma of Fine Arts (Hons) and then spent a year at teachers' college. The went on to study in Australia gaining a Graduate Diploma in Sculpture from the Victorian College of The Arts Melbourne, in 1973. On his return, Dawson drove a truck for four years, and taught drawing and design at Christchurch Polytechnic from 1975 to 1983.
Dawson's best-known pieces include The Chalice, a large inverted cone in Cathedral Square Christchurch, and Ferns, a sphere created from metal fern leaves which hangs above Wellington's Civic Square. Major overseas commissions include Globe, for the Pompidou Centre in Paris, and Canopy, for Brisbane's Queensland's Art Gallery. 
Dawson's smaller works often use illusion and such optical patterns as moirē to achieve their effects. Many of these works are wall-hangings, though stand-alone pieces using such everyday patterned items as the forms of playing cards and willow pattern crockery are also among Dawson's works.
Dawson has worked as a full-time sculptor since the late 1980s.
Dimensions: 600mm W x 600mm H x 45mm D
Edition: 4/6

Want to see this work on the wall at your house? Send us an image of your blank wall and we can create a mockup of the work in situ.

We ship throughout New Zealand! If you are overseas, please contact us and we can negotiate shipping to wherever you are.

Members get 7 days exclusive access to purchase these works before they become available to everyone else.

Members can layby any work, over a period of up to 6 months. Get in touch with us now and we can discuss payment terms to suit your budget.