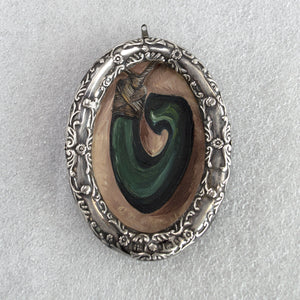 Listing Details
In February 2021 Anna Dalzell spent 17 days on board the Spirit of Enderby on an artist's voyage to the Subantarctic Islands.
This body of work is her response to the journey.
"I love this isolation so much it scares me. I think of these islands, their majesty, the wilds, the extreme nature and abundance of life they cradle. This is an absolutely stunning natural world, so invigorating, so healing, everything one could ever desire in seeing such places.
The islands possess a spiritual magic, a magic almost surreal in splendour. There is an energy that as humans we have almost lost the ability to feel."
Work Dimensions: 58mm W x 78mm oval

Want to see this work on the wall at your house? Send us an image of your blank wall and we can create a mockup of the work in situ.

We ship throughout New Zealand! If you are overseas, please contact us and we can negotiate shipping to wherever you are.

Members get 7 days exclusive access to purchase these works before they become available to everyone else.

Members can layby any work, over a period of up to 6 months. Get in touch with us now and we can discuss payment terms to suit your budget.