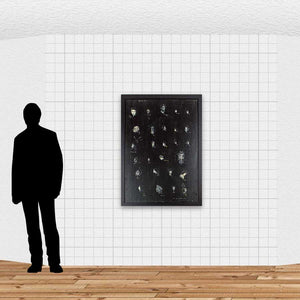 Listing Details
Tony de Lautour (1965–) Christchurch based de Lautour graduated from Ilam School of Fine Arts, University of Canterbury. His work is often quirky and full of dark humour, and his earlier work was strongly political,often dealing with contemporary issues of cultural colonisation and ownership. De Lautour is part of a group of Christchurch artists—along with Saskia Leek, 
Séraphine Pick
 and 
Shane Cotton
—often characterised as the "pencil-case painters." These artists, following the path blazed by 
Bill Hammond
, embraced a lo-fi, DIY "grunge" aesthetic, making paintings that rejected the landscape-based realism of the New Zealand painting canon. --

Want to see this work on the wall at your house? Send us an image of your blank wall and we can create a mockup of the work in situ.

We ship throughout New Zealand! If you are overseas, please contact us and we can negotiate shipping to wherever you are.

Members get 7 days exclusive access to purchase these works before they become available to everyone else.

Members can layby any work, over a period of up to 6 months. Get in touch with us now and we can discuss payment terms to suit your budget.