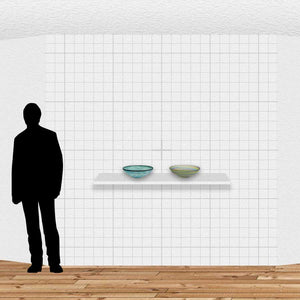 Listing Details
Justin Culina works from a studio in Parua Bay, Northland overlooking the Pacific Ocean. He makes work in glass from complex highly patterned sculptural pieces to utilitarian drink-ware.
At the core of Justin Culina's practise is a concern for incorporating ancient glass techniques in a contemporary manner.
His work is represented by art galleries throughout New Zealand and in private collections in the US, UK, Japan, China, Canada, and Australia. He is a member of the NZ Society of Artists in Glass and the Glass Art Society (International).  
Dimensions:  320mm  D x 110mm H

Want to see this work on the wall at your house? Send us an image of your blank wall and we can create a mockup of the work in situ.

We ship throughout New Zealand! If you are overseas, please contact us and we can negotiate shipping to wherever you are.

Members get 7 days exclusive access to purchase these works before they become available to everyone else.

Members can layby any work, over a period of up to 6 months. Get in touch with us now and we can discuss payment terms to suit your budget.