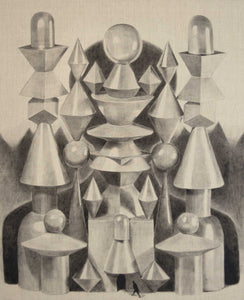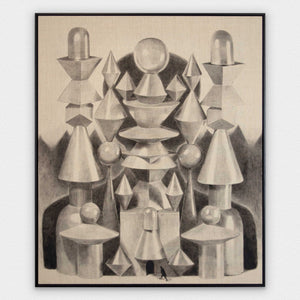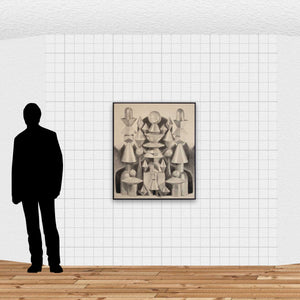 Listing Details
Born in Palmerston North, New Zealand, Douglas Stichbury lives and works between Brooklyn, New York, and Hong Kong. His works are held in the collections of both the Wellington City Council and James Wallace Arts Trust; and he has been Artist in Residence at institutions across China, Germany, Austria, and New Zealand.
Stichbury's work is heavily influenced by speculative science fiction, which he says inspires most of his pieces. But while his primary medium is painting, the nature of his subject forces him to innovate. To meet the challenge of depicting from imagination, Stichbury utilises industrial software more commonly found in cinema and engineering, to digitally plan his work. Using a dry-brush technique, he then grounds the esoteric imagery with black oil paint on linen so that it assumes tangible materiality.
Image Dimensions: 820mm W x 980mm H
Framing:  Framed

Framed Dimensions:  845mm W x 1000mm H

Want to see this work on the wall at your house? Send us an image of your blank wall and we can create a mockup of the work in situ.

We ship throughout New Zealand! If you are overseas, please contact us and we can negotiate shipping to wherever you are.

Members get 7 days exclusive access to purchase these works before they become available to everyone else.

Members can layby any work, over a period of up to 6 months. Get in touch with us now and we can discuss payment terms to suit your budget.