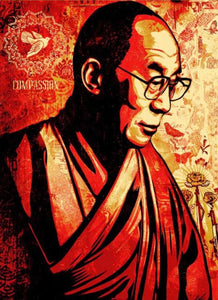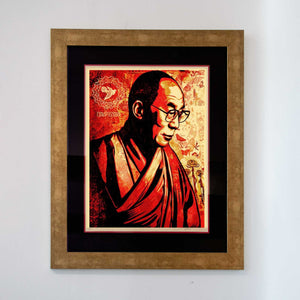 Listing Details
Shepard Fairey (1970-) Shepard Fairey is an American artist, he studied at the Rhode Island School of Design. Fairey is street artist, graphic designer illustrator and social activist, and contemporary of Banksy. Fairey is perhaps best known for his
Hope
(2008) campaign, which portrays a portrait of then-presidential candidate Barack Obama, in red, white, and blue.
This portrait of His Holiness the Dalai Lama was produced in honour of his 75th birthday, and in recognition of March 10th being Tibetan Independence Day. The work is based on an image taken by renowned photographer/documentarian Don Farber, who has spent more than 30 years covering the Tibetan leader and community in exile.

Want to see this work on the wall at your house? Send us an image of your blank wall and we can create a mockup of the work in situ.

We ship throughout New Zealand! If you are overseas, please contact us and we can negotiate shipping to wherever you are.

Members get 7 days exclusive access to purchase these works before they become available to everyone else.

Members can layby any work, over a period of up to 6 months. Get in touch with us now and we can discuss payment terms to suit your budget.