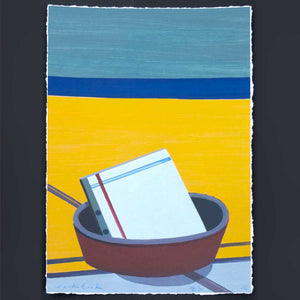 Listing Details
Eion Stevens (1952 - 2021) was born in Dunedin and after studying print-making and painting, graduated with honours from the Otago School of Art in 1973. After his graduation he travelled to Europe several times; during the first foray, he studied at Exeter College of Art, England. Eion has exhibited regularly throughout New Zealand since 1979, when he was still in his twenties, and his work is included in important public and corporate collections, and in private collections, both here and overseas. In 1999 a survey of his work was mounted at the James Wallace Trust Gallery, Auckland.
His individuality and ironic imagery has attracted a steady following. Stevens' intriguing, surreal work is distinctive both for its pared-back style, signature flat planes of strong colour, with their sense of double entendre and ironic humour.
A period living in Lyttelton resulted in the sea featuring more prominently in his work, but the Christchurch earthquakes forced a return to the city, and to working primarily on paper, sometimes the medium with the most startlingly fresh compositions.
His work has been written about in major NZ art publications including NZ Art – A Modern Perspective by Elva Bett, 100 New Zealand Paintings by Warwick Brown, and in Art New Zealand.
Image Dimensions: 280mm W x 430mm H
Framing: Unframed

Want to see this work on the wall at your house? Send us an image of your blank wall and we can create a mockup of the work in situ.

We ship throughout New Zealand! If you are overseas, please contact us and we can negotiate shipping to wherever you are.

Members get 7 days exclusive access to purchase these works before they become available to everyone else.

Members can layby any work, over a period of up to 6 months. Get in touch with us now and we can discuss payment terms to suit your budget.