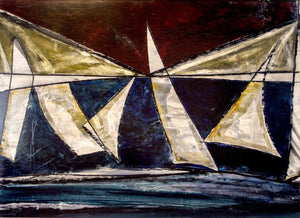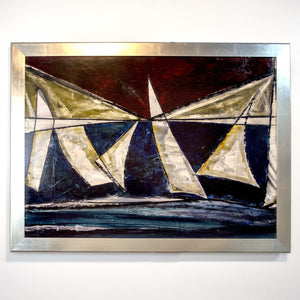 Listing Details
Born in Cape Town, South Africa, Des Robertshaw's family emigrated to New Zealand in 1965 settling in Hawkes Bay. Robertshaw studied at Victoria University, Wellington.
In 1981 he started painting in both oils and acrylics with his early series of works inspired by abstract figure studies. A later series, Bay and Marine works, was inspired by New Zealand competing in the Americas Cup race. One of his paintings from the Marine Series was chosen as the banner masthead for New York's Fleet Week, a large event when the United States naval fleet berths in New York. Robertshaw's work has made a significant impact on New Zealand art collectors and can also be found in Germany, USA, Holland and the UK.
Image Dimensions: 1005mm W x 755mm H
Framing: Framed
Framed Dimensions: 1130mm W x 865mm H

Want to see this work on the wall at your house? Send us an image of your blank wall and we can create a mockup of the work in situ.

We ship throughout New Zealand! If you are overseas, please contact us and we can negotiate shipping to wherever you are.

Members get 7 days exclusive access to purchase these works before they become available to everyone else.

Members can layby any work, over a period of up to 6 months. Get in touch with us now and we can discuss payment terms to suit your budget.