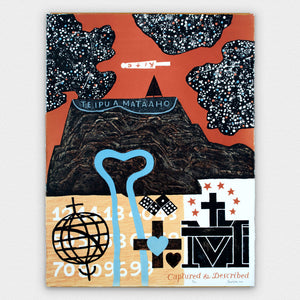 Listing Details
Robert Ellis 1929 – 2021
Ellis was born in Northampton, England. He trained at the Northampton School of Art and also attended the Royal College of Art, London.
Immigrating to New Zealand in 1957 to take up a position as lecturer at Auckland University School of Fine Arts, Ellis retired as an Emeritus Professor in 1994. Having left a post war UK and knowing very little about NZ prior to his arrival he was largely influenced by Māoritanga, seeking to heal two cultures he saw glaring at each other… 'hang on, you've each got things to give to each other, get on with it.'
Ellis was prolific during his career, with over 60 solo exhibitions and his works are held in numerous major public galleries.
Image Dimensions: 560mm W x 760mm H
Framing: Unframed
Edition: 20/100

Want to see this work on the wall at your house? Send us an image of your blank wall and we can create a mockup of the work in situ.

We ship throughout New Zealand! If you are overseas, please contact us and we can negotiate shipping to wherever you are.

Members get 7 days exclusive access to purchase these works before they become available to everyone else.

Members can layby any work, over a period of up to 6 months. Get in touch with us now and we can discuss payment terms to suit your budget.