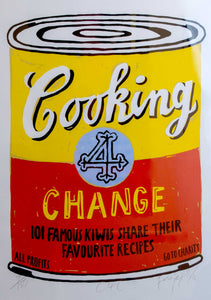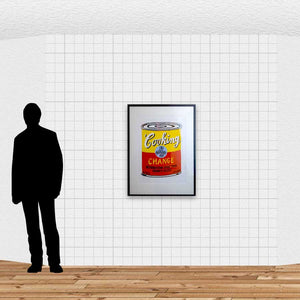 Listing Details
Dick Frizzell MNZM (1943-) Dick Frizzell is one of New Zealand's most successful and high profile contemporary artists. Frizzell studied art at the Canterbury School of Arts from 1960-1964 and was employed in advertising before moving to Auckland to lecture at Elam School of Fine Arts. Frizzell's kitsch and often cartoon-like paintings and prints, has created some of this country's most iconic imagery.
Cooking 4 Change was a cookbook produced by Dick Frizzell, his business partner Christian Kasper and TV host Erin Simpson. They asked a wide range of New Zealand celebrities to share their all-time favourite dishes in order to raise money for longstanding local charities Paw Justice, Leukaemia and Blood Cancer New Zealand, Starship Foundation and Auckland City Mission. This print is the cover artwork for the cookbook. This print was never released to the public. It was part of his cookbook release in 2016 and only handed out to the participating New Zealand celebrities.

Want to see this work on the wall at your house? Send us an image of your blank wall and we can create a mockup of the work in situ.

We ship throughout New Zealand! If you are overseas, please contact us and we can negotiate shipping to wherever you are.

Members get 7 days exclusive access to purchase these works before they become available to everyone else.

Members can layby any work, over a period of up to 6 months. Get in touch with us now and we can discuss payment terms to suit your budget.