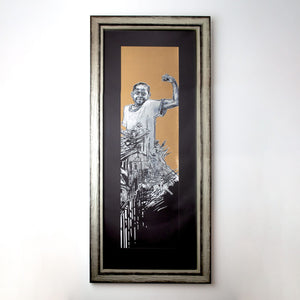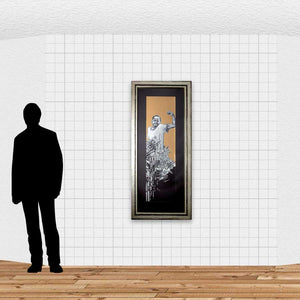 Listing Details
Swoon (1977-) Caledonia Curry, known professionally as Swoon, is a Brooklyn based installation/street artist and has works in major galleries such as the MoMA and the Tate Modern. Her larger than life woodblock prints and cut paper portraits can be found on walls in various states of beautiful decay around the world.
This print was created to raise funds for her installation, Swimming Cities of Serenissima, in the 2009 Venice Biennale.
From the artist's website:
Swoon spends much of her time enveloped in art and social practice by way of community building initiatives in, among others: Haiti, New Orleans, and the Rust Belt town of Braddock, Pennsylvania. In 2015, Swoon founded the 501(c)(3) Heliotrope Foundation to streamline these projects and to expand aid for urgent social crises. In addition to her community building work, Swoon is a dedicated advocate for the proper treatment of mental health and trauma; through volunteer art therapy programming and various residencies and lectures, she has presented through the narrative of her upbringing with two substance-addicted parents how addiction stems from pain and should be approached with empathy rather than disdain. 

Want to see this work on the wall at your house? Send us an image of your blank wall and we can create a mockup of the work in situ.

We ship throughout New Zealand! If you are overseas, please contact us and we can negotiate shipping to wherever you are.

Members get 7 days exclusive access to purchase these works before they become available to everyone else.

Members can layby any work, over a period of up to 6 months. Get in touch with us now and we can discuss payment terms to suit your budget.