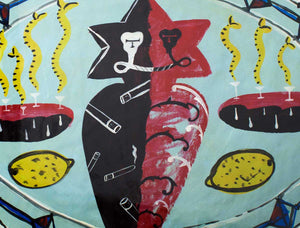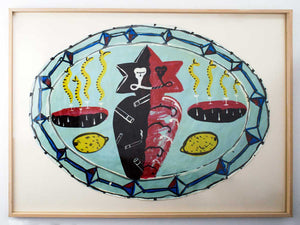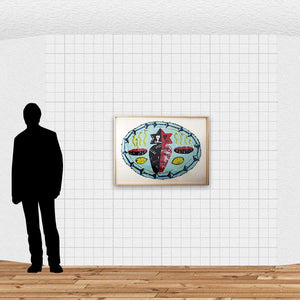 Listing Details
Many people will remember fondly the iconic Lyttelton restaurant, the Volcano, and the Lava bar next door. It is rumoured that this collaboration between Bill Hammond and Gavin Chilcott, was inspired by a late night drinking session there! Cheers!
Bill Hammond (1947-) Lyttleton artist Bill Hammond is one of New Zealand's most influential contemporary artists. He attended Canterbury University School of Fine Arts. His work tackles social and environmental issues, conveying messages about humanity and its status as an endangered species, with an extensive palette of anthropomorphic birds, horses and hybrid creatures. The 'bird-people' that feature in many of his works were inspired by a trip to the Auckland Islands, and by his subsequent interest in 
Buller's Birds of New Zealand
. He says of that visit: 'The Auckland Islands are like New Zealand before people got here. It's bird land.' Gavin Chilcott (1950-) Auckland born artist, Gavin Chilcott, has worked in a variety of media over the years and explored many art forms. As well as painting, drawing and printmaking Chilcott has been involved in designs for furniture, rugs and ceramics. He enjoyed working in collaboration with other artists, believing painting should come directly from life's experiences and one's personal responses, "the mainstream and latest trends be damned".

Want to see this work on the wall at your house? Send us an image of your blank wall and we can create a mockup of the work in situ.

We ship throughout New Zealand! If you are overseas, please contact us and we can negotiate shipping to wherever you are.

Members get 7 days exclusive access to purchase these works before they become available to everyone else.

Members can layby any work, over a period of up to 6 months. Get in touch with us now and we can discuss payment terms to suit your budget.