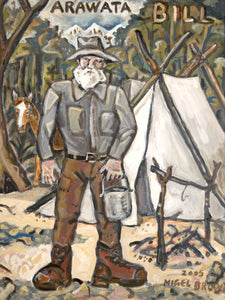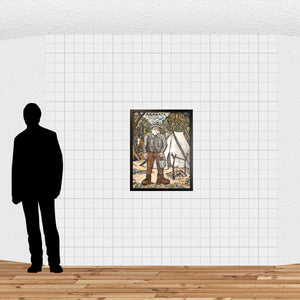 Listing Details
Nigel Brown ONZM (1949-)
Nigel Brown is one of New Zealand's most instantly recognised figurative artists and a significant narrative painter. His works are painterly and expressive, with colour playing an important role in the overall composition, reflecting the bare tones of New Zealand landscape. He challenges the viewer to think harder about notions of identity, history, and conservation and social issues. 

The subject of this painting, Arawata Bill (William James O'Leary), was a legendary New Zealand prospector and bushman who lived in the late 19th and early 20th centuries. He was known for his incredible strength, his bushcraft skills, and his unflagging determination to find gold in some of the most remote and inhospitable regions of the South Island. He gained a reputation as a fearless and skilled explorer and was credited with discovering several rich goldfields in the rugged terrain of the Southern Alps.
One of his most famous exploits was his attempt to find a route through the notoriously difficult Olivine Range in the South Island. He made several attempts to cross the range, eventually succeeding in 1911.

Image Dimensions:   580mm W x 775mm H
Framing: Framed
Framed Dimensions:   645mm W x 840mm H

Want to see this work on the wall at your house? Send us an image of your blank wall and we can create a mockup of the work in situ.

We ship throughout New Zealand! If you are overseas, please contact us and we can negotiate shipping to wherever you are.

Members get 7 days exclusive access to purchase these works before they become available to everyone else.

Members can layby any work, over a period of up to 6 months. Get in touch with us now and we can discuss payment terms to suit your budget.