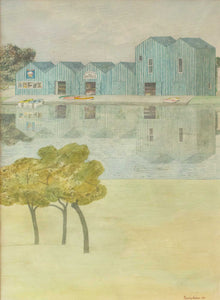 Listing Details
Maurice Askew (1921-) Maurice Askew immigrated to New Zealand in 1962 to set up the newly established Graphic Design Department at Canterbury University. He spent many years teaching there influencing the work of many students. Born in England Askew served as a bomber flight engineer in the second world war. His plane was shot down and he was caught by German troops and spent the last year of the war as a POW. On return to England, he trained as a graphic designer spending time working at Granada Studio on the set of Coronation St.
Throughout his career, he had continued his interest in watercolour painting. He painted the world around him. It is the naïve quality of these works and his unique colour pallet that give these works strength.
Image Dimensions: 360mm W x 550mm H
Framing: Framed
Framed Dimensions: 525mm W x 700mm H

Want to see this work on the wall at your house? Send us an image of your blank wall and we can create a mockup of the work in situ.

We ship throughout New Zealand! If you are overseas, please contact us and we can negotiate shipping to wherever you are.

Members get 7 days exclusive access to purchase these works before they become available to everyone else.

Members can layby any work, over a period of up to 6 months. Get in touch with us now and we can discuss payment terms to suit your budget.