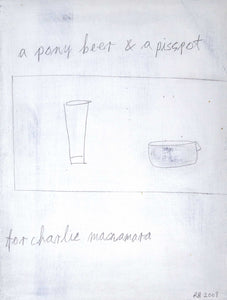 Listing Details
Largely self-taught as an artist, since the early 1980s Roger Hickin has created minimal, austere works, mostly with or painted on timber, which he describes as "evidence of an often faltering belief in the capacity of the almost-nothing to embody the almost-everything, a makeshift approach to the metaphysical through the materials of the world & time".
Hickin has exhibited regularly throughout New Zealand since 1985. His work is included in major collections including Te Puna o Waiwhetu Christchurch Art Gallery.
Image Dimensions: 235mm W x 310mm H
Framing: Framed
Framed Dimensions: 280mm W x 355mm H

Want to see this work on the wall at your house? Send us an image of your blank wall and we can create a mockup of the work in situ.

We ship throughout New Zealand! If you are overseas, please contact us and we can negotiate shipping to wherever you are.

Members get 7 days exclusive access to purchase these works before they become available to everyone else.

Members can layby any work, over a period of up to 6 months. Get in touch with us now and we can discuss payment terms to suit your budget.