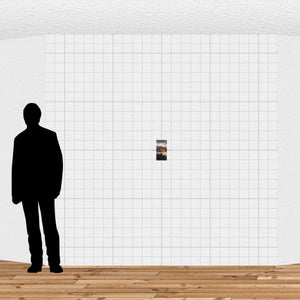 Listing Details
Based in Cromwell, Rachel Hirabayshi is a founding member of the Cromwell Hullabaloo artist's collective. These artists share gallery and studio space and exhibit regularly. Largely self taught, Hirbayashi began her career as a children's book illustrator in Auckland. She later gained a degree in art history. Her work is also influenced by her wide travels with significant time spent in both Japan and Mexico. Currently her works are 'emotional memory'. The recent series of works is called Pioneers, Flood and Gold Town. There are repeated compositional themes and elements in her works such as early settler's dwellings, humble churches and stone buildings set in vast still local landscapes.
Image Dimensions: 102mm W x 205mm H

Framing: Unframed

Want to see this work on the wall at your house? Send us an image of your blank wall and we can create a mockup of the work in situ.

We ship throughout New Zealand! If you are overseas, please contact us and we can negotiate shipping to wherever you are.

Members get 7 days exclusive access to purchase these works before they become available to everyone else.

Members can layby any work, over a period of up to 6 months. Get in touch with us now and we can discuss payment terms to suit your budget.