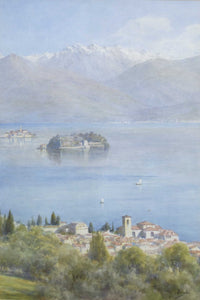 Listing Details
C N Worsley 1862 - 1923
During the first two decades of this century the artist Charles Nathaniel Worsley was a constant exhibitor at art society exhibitions throughout New Zealand. His picturesque watercolours of Europe were particularly popular. Largely a studio artist Worsley did however work out of doors making watercolour notes and studies. Most of his painting of European subjects were developed from such preliminary work.
"Born in Sidmouth, Devon, Worsley received his initial art training in London. After several years he furthered his studies at art colleges in Antwerp and Paris.
During the late 1880s and through the 1890s his travels around Europe were extensive and he lived for short periods in Holland, Portugal, Spain, France, Germany and Switzerland. The product of his travelling was hundreds of sketches and watercolours.
From 1888 he exhibited at the Royal society of British Artists, the royal Academy, London and elsewhere. In 1897 Worsley and his wife decided to leave England. Mrs Worsley suffered from asthma and was strongly advised to seek a better climate. New Zealand was chosen as a place where it was thought her health might improve. It was also a country, it was perceived, which offered distinctive scenery for traditional landscape artists. Shortly after arriving Worsley lived in Gisborne then in Wellington, and in 1901 moved to Christchurch. Over the following twenty years there were a succession of shifts around New Zealand.  travelled back to England and the Continent on painting trips. It was during one such extended visit that he died suddenly at Brescia, Italy on 27 April 1923".
Biography for Christchurch Art Gallery Te Puna O Waiwhetu
Dimensions:  480mm W x 740mm H
Framing: Framed
Framed Dimensions: 850mm W x 1110mm H


Want to see this work on the wall at your house? Send us an image of your blank wall and we can create a mockup of the work in situ.

We ship throughout New Zealand! If you are overseas, please contact us and we can negotiate shipping to wherever you are.

Members get 7 days exclusive access to purchase these works before they become available to everyone else.

Members can layby any work, over a period of up to 6 months. Get in touch with us now and we can discuss payment terms to suit your budget.