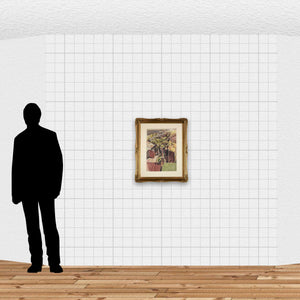 Listing Details
Eric Albert Lee-Johnson 1908 - 1993
Lee-Johnson was born in Suva, Fiji, on 8 November 1908 to an Australian father, Frank Johnson, and his Fijian-born wife, Mary Lee. The family came to New Zealand when Eric was four, living a various North Island locations .
At 16 he won a place at the Elam School of Art in Auckland. While studying he worked as an illustrator for publishers Wilson and Horton. In 1930 Johnson headed for England, soon finding work in London as a designer and typographer at an advertising agency and attending evening classes at the Central School of Arts and Crafts, while exhibiting paintings at the Camberwell School of Arts and Crafts. Significantly he also took up photography at this time. In 1938 he returned to New Zealand.
Lee-Johnson had long determined that his painting would take 'a clearly Pacific, regional path'. Contemporary New Zealand painting seemed to him to deliberately avoid the truth about the landscape – that pioneering activity had littered much of it with corrugated iron, fencing wire and 'other ugly elements'. This had to be acknowledged before local art could 'advance beyond mere decoration', and he actively sought a distinctive regional imagery. In the process he began using a camera; initially to record scenes he might paint, and later for the sometimes surprising images he found in his lens. In October 1946 he held his first New Zealand exhibition of paintings at the clubrooms of the Auckland Society of Arts, and by the late 1940s his paintings were receiving critical attention.
Image Dimensions: 306mm W x 448mm H
Framing: Framed
Framed Dimensions:  545mm W x 665mm H

Want to see this work on the wall at your house? Send us an image of your blank wall and we can create a mockup of the work in situ.

We ship throughout New Zealand! If you are overseas, please contact us and we can negotiate shipping to wherever you are.

Members get 7 days exclusive access to purchase these works before they become available to everyone else.

Members can layby any work, over a period of up to 6 months. Get in touch with us now and we can discuss payment terms to suit your budget.