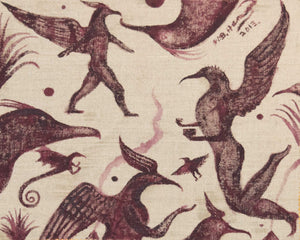 Listing Details
Hammond grew up in Christchurch attending Burnside High School before going on to Ilam Art School at the University of Canterbury 1966 – 1969. He supplemented his income from painting making wooden toys and working in a sign-writing factory . His first solo exhibition was in 1987 at the Peter McLeavey Gallery in Wellington.
In 1989 Bill travelled to the Auckland Islands. This trip was deeply significant for his future work. Anthropomorphic bird people in emerald appear on the canvas in lush New Zealand native bush. In later works the birds become golden. Music and social conscience themes prevail as the paintings are his comments on contemporary society.

Image Dimensions: 385mm W x 285mm H

Framing: Framed
Framed Dimensions:  515mm W x 475mm H

Want to see this work on the wall at your house? Send us an image of your blank wall and we can create a mockup of the work in situ.

We ship throughout New Zealand! If you are overseas, please contact us and we can negotiate shipping to wherever you are.

Members get 7 days exclusive access to purchase these works before they become available to everyone else.

Members can layby any work, over a period of up to 6 months. Get in touch with us now and we can discuss payment terms to suit your budget.