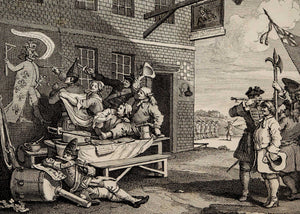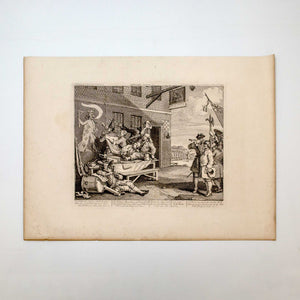 Listing Details
William Hogarth (1697-1764)
Hogarth was an English painter, printmaker, pictorial satirist, social critic, and editorial cartoonist. Influenced by French and Italian painting and engraving,
Hogarth's works are mostly satirical caricatures. They became widely popular and mass-produced via prints in his lifetime, and he was by far the most significant English artist of his generation.
This work - The Invasion, Plate 2: England - is the second of a pair of works that looks at the fears of a French invasion, raised by the outbreak of the Seven Years' War in 1756, and the large movements of French troops to Le Havre and Brest.
Image Dimensions: 340mm W x 320mm H
Framing: Unframed

Want to see this work on the wall at your house? Send us an image of your blank wall and we can create a mockup of the work in situ.

We ship throughout New Zealand! If you are overseas, please contact us and we can negotiate shipping to wherever you are.

Members get 7 days exclusive access to purchase these works before they become available to everyone else.

Members can layby any work, over a period of up to 6 months. Get in touch with us now and we can discuss payment terms to suit your budget.