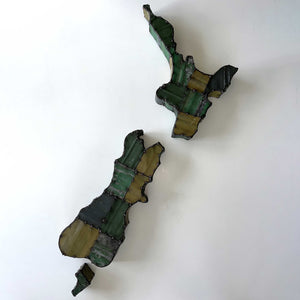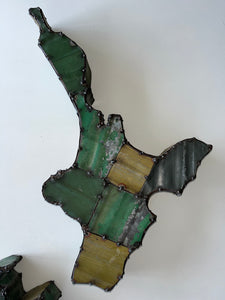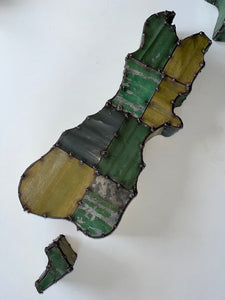 Listing Details
The appeal of Hannah's sculpture is, in the first instance, their familiarity. Kidd takes inspiration from everyday New Zealand life; working dogs, hanging washing, life at the beach etc. She crafts her work in her Methven studio welding corrugated iron and steel. Kidd's ability to get to the essence of the subject is unique. Her intelligence and humour are very obviously part of her creative process.
Kidd graduated from Otago Polytechnic School of Art in 2001 and has quickly risen to critical acclaim with her unique and distinctive work exhibited both in New Zealand and internationally. She has also won awards in both Australia and New Zealand including the Montalto Sculpture Award, Australia, and the Sculpture on the Peninsula Award, New Zealand. She is widely recognised as being one of the country's foremost young sculptors.
Work Dimensions: 
330mm W x 570mm H (North) 200mm W x 520mm H (South) 60mm W x 100mm H (Stewart)
Edition: 38/75

Want to see this work on the wall at your house? Send us an image of your blank wall and we can create a mockup of the work in situ.

We ship throughout New Zealand! If you are overseas, please contact us and we can negotiate shipping to wherever you are.

Members get 7 days exclusive access to purchase these works before they become available to everyone else.

Members can layby any work, over a period of up to 6 months. Get in touch with us now and we can discuss payment terms to suit your budget.