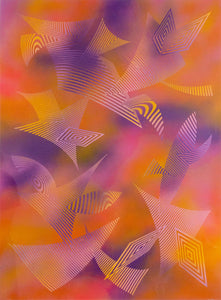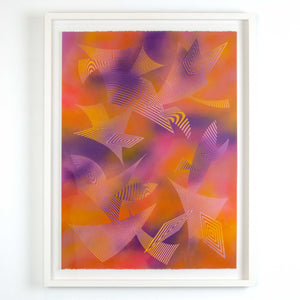 Listing Details
Sara Hughes is an Auckland artist with a Master of Fine Arts from Elam School of Fine Arts, University of Auckland. Hughes' "paintings" can be found on all sorts of surfaces, from walls and floors, to plastic containers and paper cut-outs. Her tools range from paint brushes to computer programs, juxtaposing the subjective hand of the artist with the objective mark of the machine. She often uses the same material as sign writers - machine-cut vinyl - but adds layers of painting and printing over the top, covering walls with a dazzling array of colourful patterns. Hughes has exhibited in major public galleries in New Zealand and her paintings and installations are held in many important Australasian public and private collections including the Chartwell Collection; Auckland City Art Gallery Toi o Tāmaki; Te Papa Tongarewa; Wellington and the National Gallery of Australia, Canberra. 

Image Dimensions:  550mm W x 765mm H

Framing: Framed
Framed Dimensions:  670mm W x 880mm H

Want to see this work on the wall at your house? Send us an image of your blank wall and we can create a mockup of the work in situ.

We ship throughout New Zealand! If you are overseas, please contact us and we can negotiate shipping to wherever you are.

Members get 7 days exclusive access to purchase these works before they become available to everyone else.

Members can layby any work, over a period of up to 6 months. Get in touch with us now and we can discuss payment terms to suit your budget.