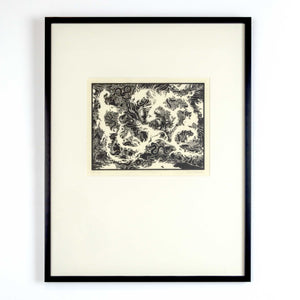 Listing Details
Originally from a farm near Clinton in Otago, Paul McLachlan has spent the past few years based internationally. He completed a BFA from Massey University, and then an MFA with distinction from Canterbury University. In 2016 he received the Asia New Zealand foundation residency in Bangkok. During this period, he completed a series of lithographs and later paintings inspired by cross cultural references from Thai and western mythology .
The work 'Blue Lion' from this series was the Jury winner at the 2018 Wallace Awards.
 Image Dimensions:  282mm W x 222mm H

Framing: Framed
Framed Dimensions:  515mm W x 685mm H

Want to see this work on the wall at your house? Send us an image of your blank wall and we can create a mockup of the work in situ.

We ship throughout New Zealand! If you are overseas, please contact us and we can negotiate shipping to wherever you are.

Members get 7 days exclusive access to purchase these works before they become available to everyone else.

Members can layby any work, over a period of up to 6 months. Get in touch with us now and we can discuss payment terms to suit your budget.