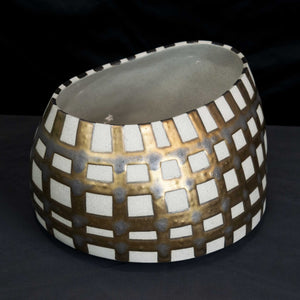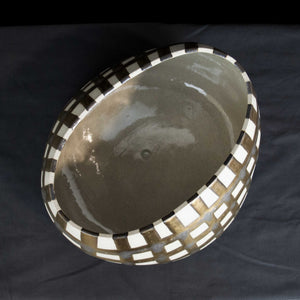 Listing Details
Anthea Birch
1991-1995 BA(Hons) Ceramic Design. Central St Martins College of Art and Design, London, UK
1981-1983 Dip. Textile Design, Wellington Polytechnic, NZ
For Anthea, the protection of New Zealand agricultural waterways, and the fish, that have and do still inhabit some of them, is key. Fascinated by the traditional form and texture of wicker creel baskets used for collecting fish she has continued to use this as a departure point in her practice for the vessels she creates. Preferring to hand-build, and working with porcelain clay, her darker speckled clay body is a closer fit to the river environment, lending itself towards exploring the fine craftsmanship of basketry and weaving.
Anthea has a studio in her rural home in the Wairarapa.
Dimensions: 280mm D x 130mm H

Want to see this work on the wall at your house? Send us an image of your blank wall and we can create a mockup of the work in situ.

We ship throughout New Zealand! If you are overseas, please contact us and we can negotiate shipping to wherever you are.

Members get 7 days exclusive access to purchase these works before they become available to everyone else.

Members can layby any work, over a period of up to 6 months. Get in touch with us now and we can discuss payment terms to suit your budget.